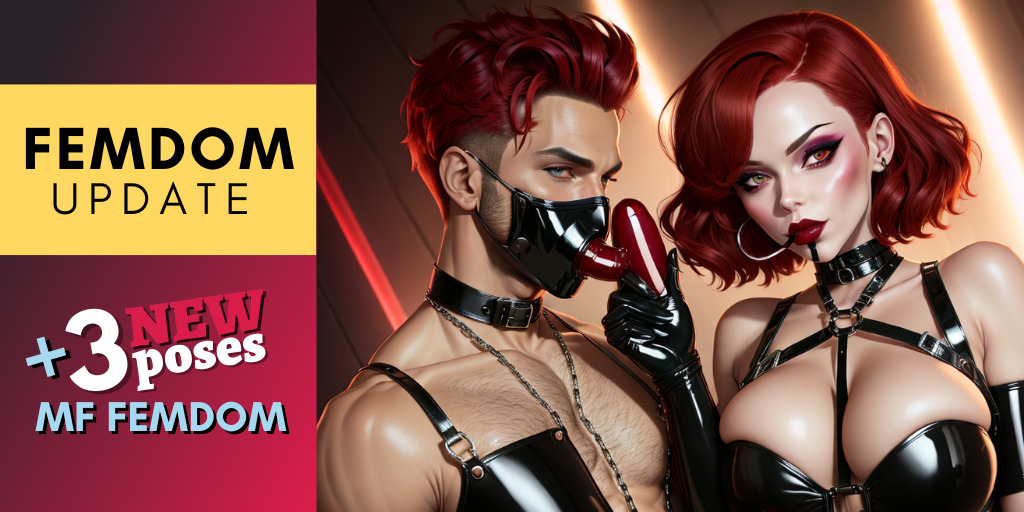 Hey there, fellow players! It's time to buckle up and get ready for the thrilling new FemDom Update!
We've got not one, not two, but THREE FemDom poses! Whether you're into dominating or being dominated, these positions will have you coming back for more.

The star of the update – the new item, a latex mask with a dildo! Oh yes, you heard that right! This intriguing addition is going to spice things up like never before. Get ready to explore a world of pleasure and power with this thrilling accessory.

But that's not all, folks! We've also added three fabulous new harnesses. Two of them are for the ladies because we believe in empowering our female players to take charge and rock the game. And guess what? One of these harnesses comes in a blazing fiery red – talk about making a statement!
Oh, but wait, there's more! We know you love your accessories, so we've included two BDSM masks in a new color for the ladies.

The FemDom Update is here to up your game, both literally and figuratively. With three mind-blowing poses, a kinky latex mask with a dildo, three awesome harnesses (including that fiery red one for the ladies), and two BDSM masks in a new color, there's so much to explore and enjoy.
So, jump right in and immerse yourself in this electrifying update. Embrace your inner power, push your boundaries, and indulge in the world of pleasure and fantasy that awaits you. Get ready to dominate the game or be dominated as you embark on thrilling adventures like never before!
Enjoy the FemDom Update and have a blast, our fellow players! See you on the steamy side of the game! 😉