Defeat the ugly monsters with the help of seductive busty girls in an outstanding game for adults Fap Titans. Click a lot, have fun, and enjoy hentai porn.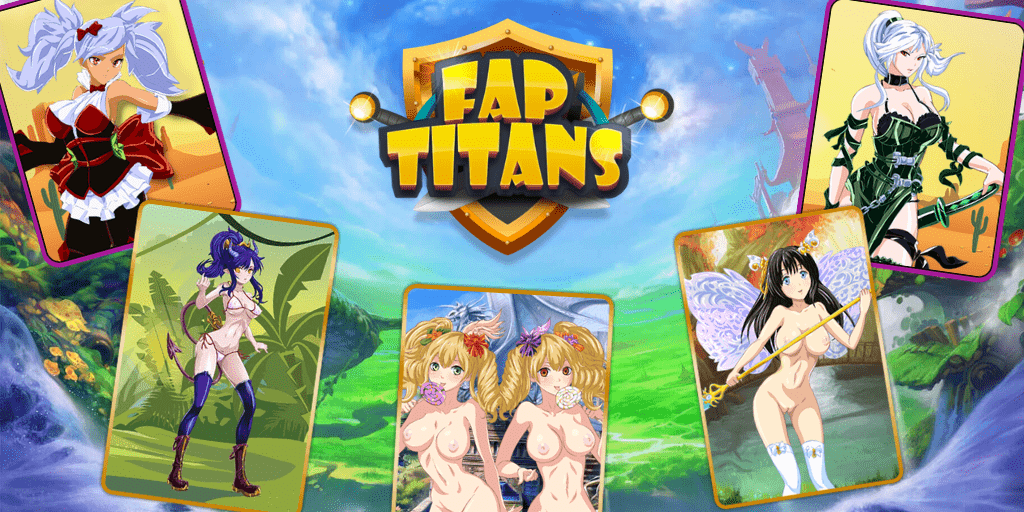 What is Fap Titans About?
Fap Titans is a funny and exciting game for adults. You can dive into the world of fantastic medieval with busty chicks and giant monsters. Your goal is to defeat all the orcs, tentacle monsters, and other beasts and increase your female army. Many gorgeous ladies are presented in this game. You will be happy to get acquainted with Akira Hitsujikai and other hotties. They look very seductive because of their leather outfits, hats, heavy boots, and vest-bras. Those bras cover the immense round boobs of your dreams.
Fap Titans is a very simple browser game. The only thing you should do is clicking. Such kind of games is called incremental clickers. There was a popular one about cookies. The Fap Titans is a clicker with big boobs and hentai style. It is perfect for those who hate difficult games with complicated gameplay.
Open the link in your browser and the game will begin in a moment. You will see a voluptuous girl who is your guide. She will explain to you how everything works. Your first mission is to kill a big blue monster with an ugly pig face. He is armed well and looks pretty strong. But don't worry! You can defeat him just clicking multiple times. You get gold for each kill.
What's next? More monsters! You can continue to kill them one by one and gain more gold. The gold can be used to hire some help. Sexy hunters in extravagant leather outfits will be happy to join you in your battles. It means, they will damage monsters simultaneously with you. It will help you a lot. Don't forget, orcs become stronger at each level. You should update your bitches regularly. After a while, they will do all the work for you. Yes, this is how such type of games works. You gain more gold and sexy warriors; they kill more monsters that are stronger than previous.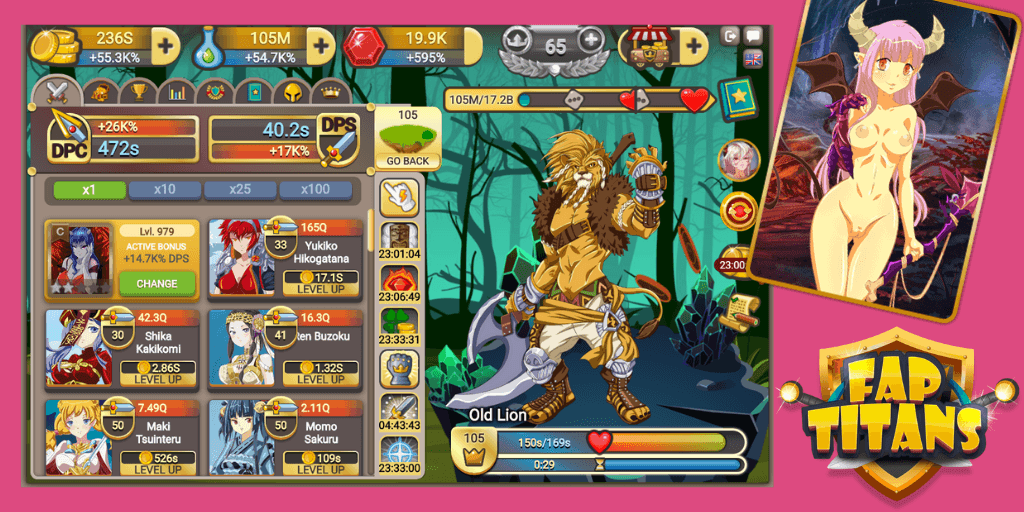 The Fap Titans is an adult game not only because of busty (but clothed!) girls. When you defeat enough monsters, you get access to hot hentai pictures. They get saved to your gallery so you can return and admire them anytime you want. Of course, it's easier to find some good hentai stuff on the appropriate websites. But the pictures from the Fap Titan will be much more valuable for you because you were fighting for them. This is why the mix of pornography and games is so exciting for the users.
The game is free-to-play but it includes the microtransactions. If you want to level-up your bitches faster and defeat more powerful beasts, you can buy some gems for money from your bank account. Decide for yourself.
Bright hentai design and gorgeous lassies will cheer you up. Enjoy the Fap Titans to the full! It has a lot of surprises and hot hentai pictures! I can say that the Fap Titans is a very addictive game 😉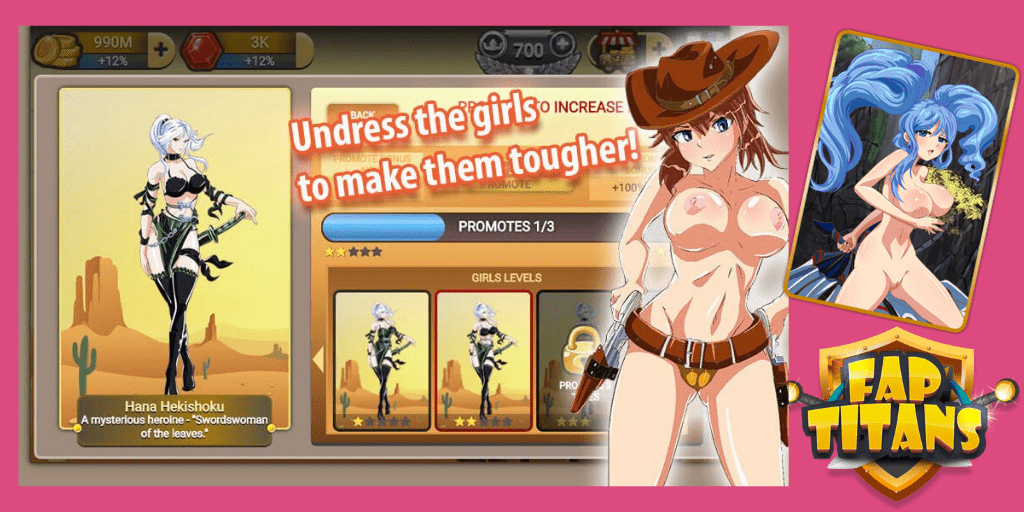 Supported Platforms and System Requirements
Supported Platforms and System Requirements
You can play Fap Titans on any device with an Internet connection. Anyway, make sure your device is enough strong. A cheap smartphone will not cope with this browser game. A good tablet or laptop will be perfect for this game.
The game is free to play
The gameplay is simple
Guided walkthrough won't leave you alone
Bright anime style
I'd like to see more adult content
If you don't like clickers, you will get bored soon
It is surprisingly heavy on system resources
You can find the game on the official website.
It can be run on a tablet, smartphone, laptop, or desktop. Enjoy free-to-play clicker game with big boobs, defeat hundreds of monsters, and get rewarded with hentai pictures!