So great that you share your stories. So we become closer to you. And we will understand your needs in the game. We are also very pleased to know that Yareel is important to you. Thank you for that.
Authors of stories published by us will receive 100 berries per account. Send your story to support@yareel.com.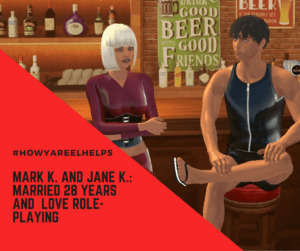 Dear Yareel developers
My wife and I want to thank you for this game, as well as to contribute to the release of the new version, so we bought one of the sponsorship packages. And we hope that the updated version of the game will be available soon.
Both of us are over 50 years old, and we have been married for 28 years. During this period there were a lot of experiments in our sexual life 🙂 It is not a secret for anyone that sex with one partner, though beloved, for such a long period of living together becomes boring and usual. Therefore, we really love role-playing games. It always brings freshness and newness to our sexual relationships. One of our favorite games is Yareel.
I have an account with my real age, and my wife has an account of an 18-year-old girl. I often write her «in secret from my wife» 🙂
We flirt with her and sometimes, when she agrees to it, we are engaged in online sex. In order to have sex with her I have to give her gifts and tell how I want to fuck her and what I am ready for to do that. It really gets me horny to be a daddy for my baby. And my wife is still very excited when other men (who are actually younger than her) write to her and say how he wants her. But my girl tells everyone that she already has a daddy and she is only with him.
Sometimes we chat in Yareel even during working hours and the degree of our excitement rises so much that when I return home, real sex becomes my first dish for dinner 🙂
Yareel helps us to improve our sexual life, I want my wife even after 28 years of marriage as it was during the first year of our life together. Thank you for this opportunity.
Regards, Mark K. and Jane K.