Create avatar and have hot sex with real online players in porn game Yareel3D.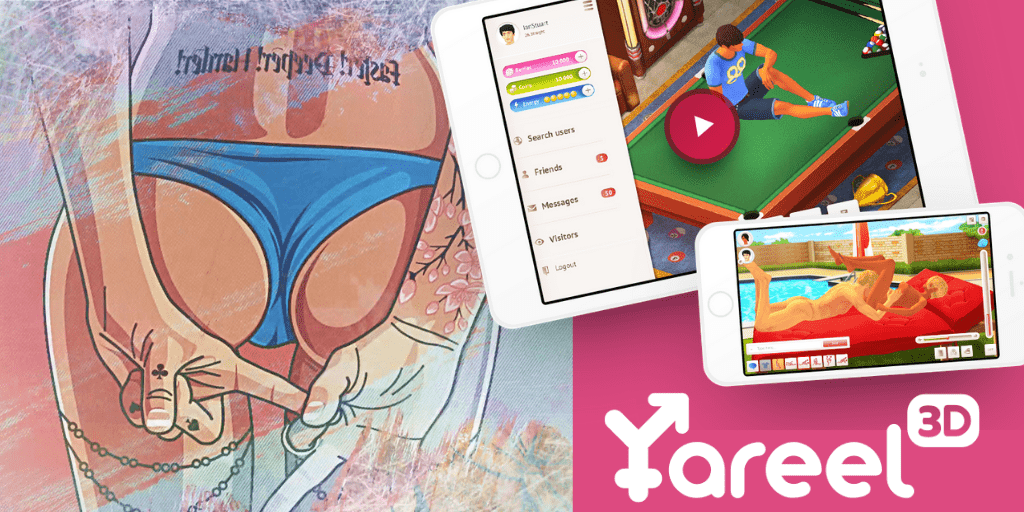 What is Yareel Game About?
I'm so excited to share my opinion about Yareel! This is a fantastic online sex game. It can be called a Sim game for adults. Yareel gives players amazing possibilities. First of all, you create an avatar. Then you can meet other players and have virtual sex with them. Dating and socializing are very impressive! The developers provide very good graphics and sound. Dive into the Yareel world of virtual dating and sex right now!
You can have an unforgettable experience playing Yareel. You are making your own story with your own 3D avatar. Other players from all over the world will be happy to get acquainted with you. A date in a bar can be continued in your bedroom. This is the most exciting part of the game. It allows you to choose sex positions and intimate stimulation of your tastes. Realize all dirty wishes having sex with the avatars of other real players. Fabulous sex scenes in the 3D world of Yareel will make your day!
There is nothing difficult about the gameplay of Yareel. Everything is very intuitive. Choose a 3D avatar of your tastes and start your journey. The main part of the game is communication with other players. The advanced search engine has a lot of options and filters. It helps you find the most appropriate players. For example, you can search for players with profile pictures only. It is a very cool feature. I like to know who is communicating with me even in a virtual world. Also, you can choose the country, age, height, body type, sexual interests, near you, and so on.
First of all, chat with a player to find out if you have the same sexual fantasies and preferences. Make sure you fit each other. If everything is okay, you can have a virtual date in your house or at new partner's place.
You have a list of friends and visitors on the game menu. Also, you will find there all the received messages. You can customize your avatar and apartment buying clothes, lingerie, sex toys, furniture, and more. Make your avatar and the room unique!
The tutorial and information on the official website will help you find out about all functions, details, and features. Also, there are VIP packages that include more options and perks. The price isn't high at all.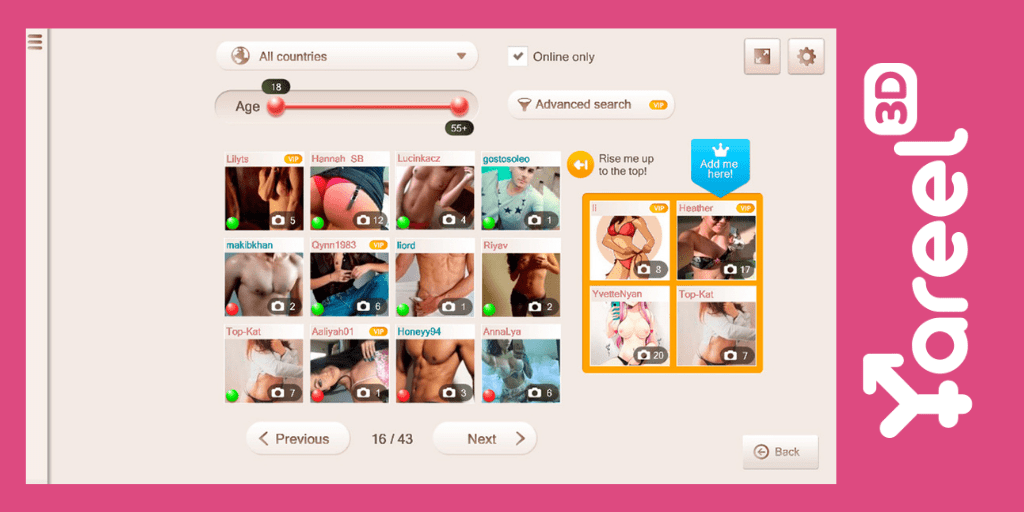 Of course, Yareel is widely known for virtual sex scenes with other players. Many various sex positions and represented in the game. Choose any you like and control the speed of the movements and excitement of your avatar. You can continue chatting with your virtual sex partner. Also, there is a call feature. I was a little bit shy when I decided to talk to another player during our fantastic fuck scene. But it was an unforgettable experience! After blowjob, cunnilingus, and doggystyle, both avatars reached amazing orgasms! You will love 3D sex scenes in Yareel, I promise you!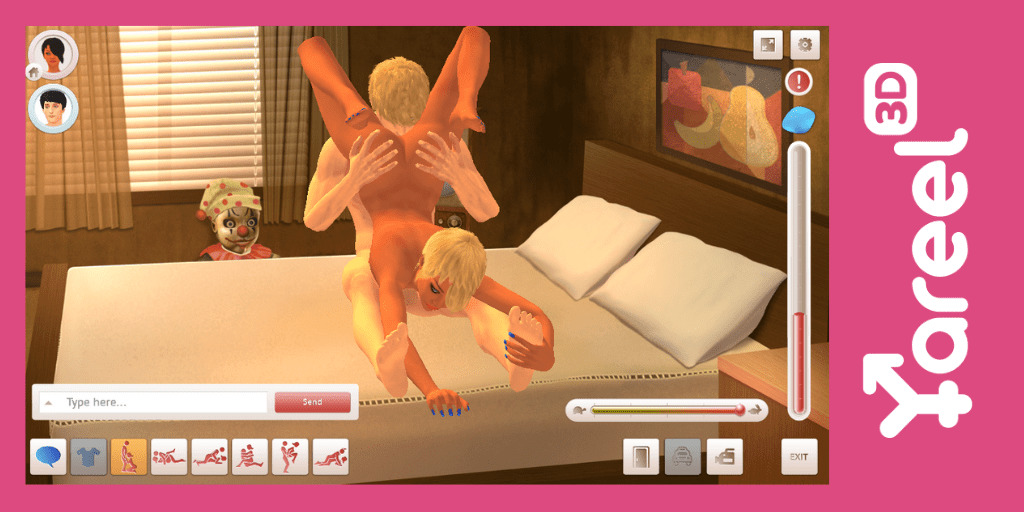 Supported Platforms
Yareel is supported by all popular platforms, and this is a big advantage! You can enjoy the game with over thirteen thousand active players on:
Windows XP/7/8/10
MAC
Android
You don't need a very powerful laptop or PC to play Yareel. This game is well-optimized for all platforms.
Free to Play
Good graphics and sound
Passionate sex scenes
Communication with other players
You should pay for some content
No detailed avatar customization
Some players are dumb
You can download this wonderful game on the official website https://yareel.com/ or play in your browser. There you will find all the additional information you need. I advise you not to pass by such a great online virtual sex game! You can play it for free right now on any of your devices! Join the Yareel community with no shame!