"Plug into the ultimate joy ride!" proclaimed a 1987 Penthouse Forum article, in which writer Jessica West talked about how she had first tested a Sybian sex machine (and after reading the quotes alone, I was already jealous of her). What followed that article can only be described as "Sybian Madness".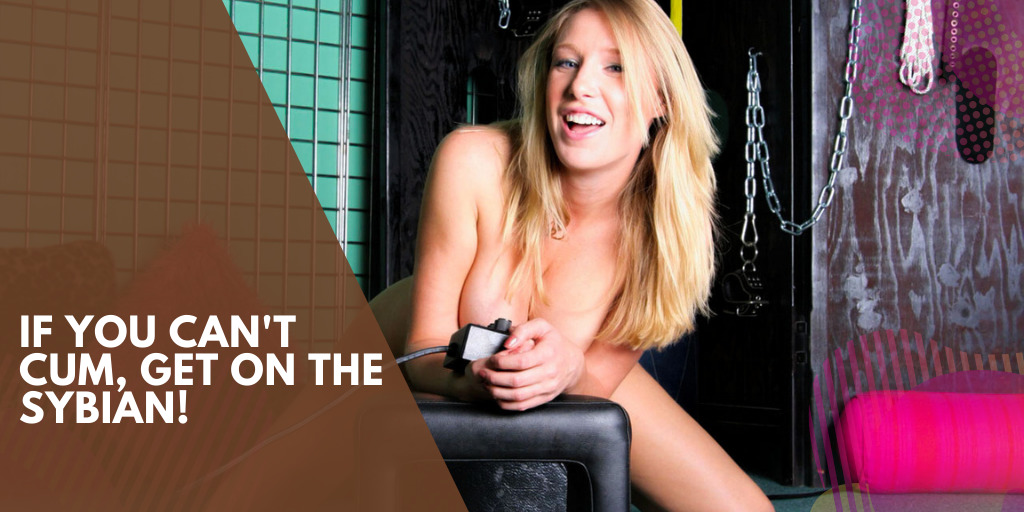 For months, everyone wanted this 10-kilogram monster, equipped with dildo and clitoral stimulator, in their hands (and on other body parts, too). The machine cost over $1,000 and gained unprecedented notoriety in the sex industry. It's even been on the Howard Stern Show as an exhibit.
It makes sense that 30 years ago, buying something like that was near impossible, and the massive rotating penis certainly gave an impression. But even now, with the sex toy market having become saturated with a variety of gizmos, the popularity of the Sybian stands strong. I often see this "pleasure machine" in porn videos, and recently also in online adult games (we're in the age of virtualization, after all).
From dance studios to swinger clubs, here's how the world's most powerful vibrator was created
Dave Lampert is a studious family man from Illinois. He's also the creator of perhaps the world's most legendary sex toy, the Sybian. How did a humble farmer and dance instructor come up with such an obscene idea?
Like many great inventors, the inspiration came from outside. More specifically, from the many women who, for some reason, complained to Dave about their infrequent orgasms after dancing. I can only imagine for what reason.
He thought the concept of Sybian over for more than 10 years, talking to regulars at swinger clubs and 18+ bookstores, as well as sexologists, researchers, and even engineers.
Throughout the course of his racy research, Lampert noticed that women had an easier time cumming in the cowgirl position (can confirm). Not a stranger to the saddle (remember – Lampert was also a farmer), in 1983 he set about his work and designed something rather unique.
The result was a machine equipped with two motors that produce a vibration of 6500 rpm, which is 6 times faster than the drum of a washing machine. Considering what regular sex on a washing machine does to me, I'm afraid to imagine what effect the Sybian produces.
To make it clear, in this video you can really see the amplitude of the girl's movement, bouncing rhythmically and bringing some particularly satisfying stimulation:
What does Sybian look like?
The machine really does resemble a saddle, with special attachments that can be used to stimulate the clitoris, vagina, and anal opening at the same time. The rough, masculine, old-fashioned design has made the Sybian quite popular in S&M circles. This video, for example, shows a girl skillfully riding one and erotically holding her head. Note that the professional machines come with a pad for support.
"The Sybian Orgasm" is a porn industry legend
This clitoral stimulator is especially popular with women, who, as I've mentioned before, come quicker and easier with clitoral stimulation. Meanwhile, the additional combined vaginal and anal stimulation multiplies the sensations. This combination brought on an unspoken term, "The Sybian Orgasm", which is an orgasm of incredibly intense proportions and often leads to multiple orgasms and even squirting. Every woman experiences pleasure in her own way, but it has been proven many times that no one can last "in the saddle" for too long 🙂
By the way, videos where porn celebrities and ordinary women ride the Sybian while reading classical literature in a vain attempt not to cum quickly went viral. One video alone of porn stars doing math while masturbating received more than 4.3 million views.
In 2021, the legendary "Sybian" found a use in online gaming as well. The Yareel3D multiplayer adult game successfully implemented the best and most real "orgasmic ride" experience and adapted it for virtual sex between players. All poses and facial expressions are real and are taken from numerous videos. For example, this video shows a girl touching her breasts and very sensually arching backwards and tilting her head.
The Sybian phenomenon: why has the sex toy stayed popular for 30 years?
As I've written before, Sybian's cultural relevance has only grown in three decades, despite growing competition and innovation in the sex toy market. Like most trends, it's hard to say for sure why some things become popular.
I think people have had enough of fake orgasms and pretend moans on camera. The viewer easily recognizes every fake orgasm on camera, but porn stars, for some reason, continue to furiously wriggle around pretending that they're experiencing a non-existent pleasure. As my grandfather used to say, "Can't do it? Don't." In our case, if you can't cum, get on the Sybian! :)))
There is another theory about the popularity of the sex machine that is no less interesting: futuristic Matrix-style sex, where the combination of man and machine makes scenes with the Sybian so hot. I can't say for sure, though, because I'm not a fan of neither post-apocalypticism nor impersonal sex. But, who knows, maybe in 1000 years the Earth will have been invaded by highly evolved mechanized aliens who will leave humans alive only out of respect for Lampert's invention? :)))
My theory is also supported by the fact that since the launch of Pornhub in 2012, searches containing the Sybian have multiplied. The Internet has become flooded with professional porn, staged and boring to the teeth. And people, especially women, want to feel alive! People want to see sincere, genuine feelings on faces. And in the case of the Sybian, it's pretty obvious that they're real. Watch this video for proof. There's a whole range of emotions on the girl's face. You have to admit, this performance is on Monica Bellucci levels. I honestly couldn't take my eyes off!