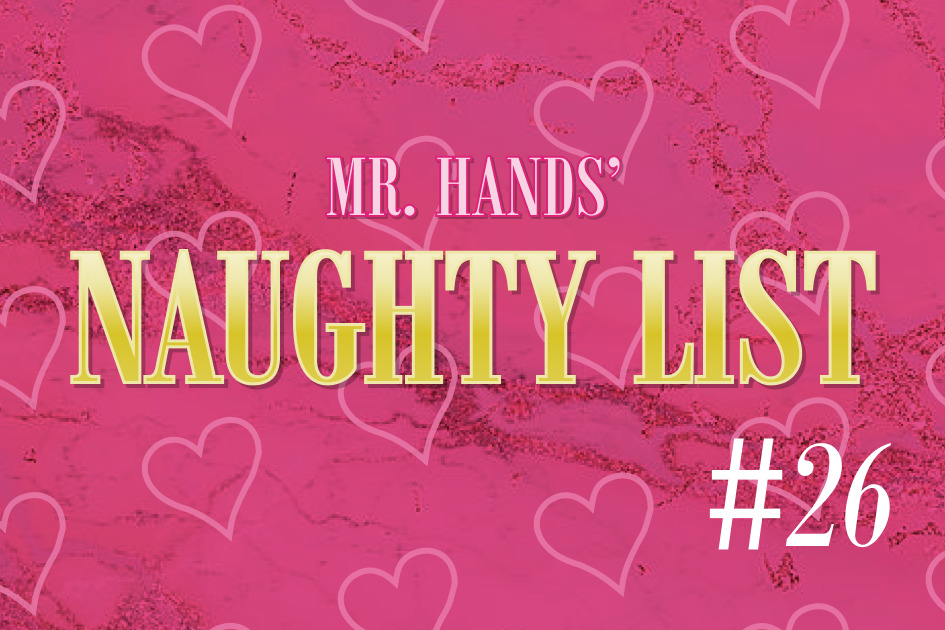 Hello, lovelies!
With vaccinations on the rise around these parts and everybody being cooped inside for so long, we anticipate a long and horny summer! 😎
In order to be properly prepared, it's good practice to take the time to work those horny muscles, which is why I take the time to bring you the latest in adult gaming news every week. 😘
If you're not already subscribed to my weekly newsletter, you can do so here.
Now let's get into it!
Celebrate story & play at LudoNarraCon
LudoNarraCon 2021 is going on this weekend! This third installment is a celebration of narrative games and is hosted on Steam, with over a hundred narrative games on sale this weekend.
The festival is also hosting panels, talks, and fireside chats about narrative games right on the platform. If you missed any of the talks, they will be uploaded to YouTube as well after the event concludes.
Here are some narrative games that are part of the festival that I can heartily recommend:
What are your favorite narrative games? Let me know in the comments!
Survive a tropical island in Paradise Lust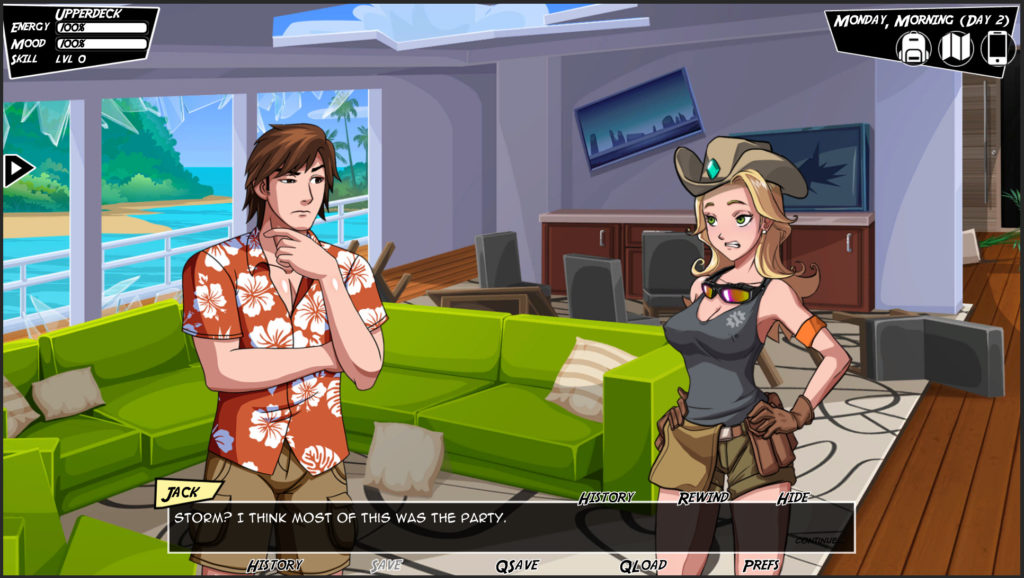 Paradise Lust is an adult point-and-click adventure game developed by Flexible Media and published by Tiny Hat Studios. You play as the bartender of the pleasure yacht Moby Dick. Your brother, captain of the vessel, managed to sail the yacht into a tropical island. This is unfortunate since the vessel was chartering the Miss World Media pageant!
The beauty pageant contenders and their industry friends are now scattered all over the island. You must learn to survive in this unfamiliar territory while searching for these beautiful castaways.
This is already shaping up to be a great adventure game with wonderful artwork and a varied cast of characters. I've played it for a bit and I can't wait to see where the story will go next!
"Coffee Talk is a coffee brewing and heart-to-heart talking simulator about listening to fantasy-inspired modern peoples' problems, and helping them by serving up a warm drink or two."
"VA-11 HALL-A: Cyberpunk Bartender Action is a booze em' up about waifus, technology, and post-dystopia life."
"The Red Strings Club is a cyberpunk narrative experience about fate and happiness featuring the extensive use of pottery, bartending, and impersonating people on the phone to take down a corporate conspiracy."
Paradise Lust is out now on Steam Early Access.
Chat the night away with Yareel 3D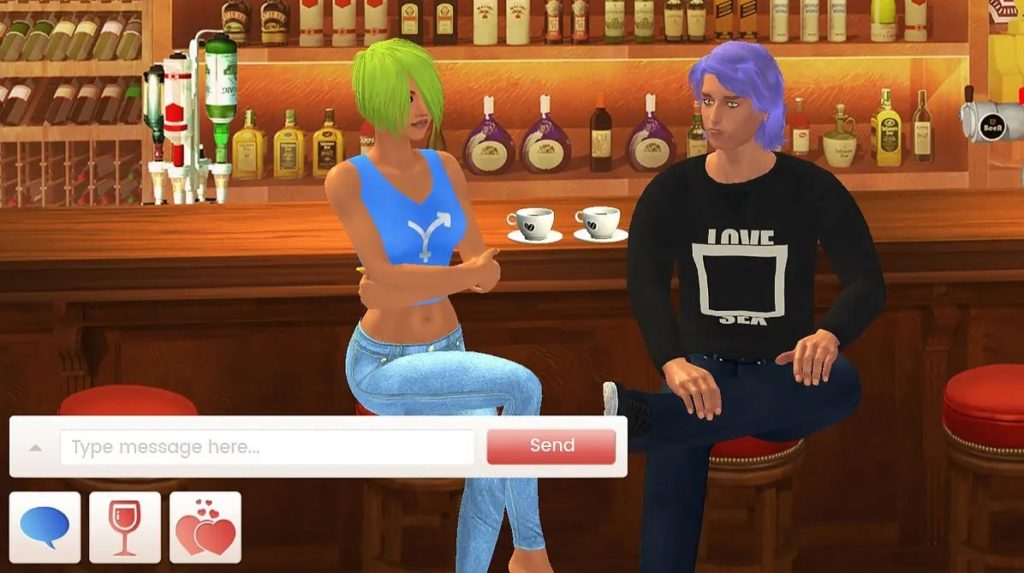 Yareel 3D is a free-to-play online platform for adult conversations and cybersex. Match up with strangers from all over the world, playing on mobile or via the website. With the press of a button, you can have 1-on-1 text conversations or group sessions with new and interesting people.
While you start chatting with a partner in a neutral location like a café or a restaurant, you can together choose to take it to the bedroom as well. Yareel 3D features many different sexual positions that are sure to keep you interested. And with many customization options to choose from, you can build an avatar that reflects the real you.
Importantly, the game allows you to select your gender and sexual preferences before you start matching up with strangers. This ensures that you continue to have a good time when a chat session inevitably starts heating up!
As I mentioned up top, Yareel 3D is kindly sponsoring this edition of the Naughty List. If you sign up for the game using my referral link, you will receive an extra 500 coins on your account for free!
SpicyGaming is looking to showcase your adult game projects:
We know that only together we can make adult gaming industry what it deserves to be. We are giving our word and commitment that all games showcased on our platforms will be hosted and showcased for free now and forever.
Nutaku got some good answers out of the developers behind Lust Academy:
Our challenges reside on the more personal side of things. Even though our team members are all passionate about adult gaming, some of them are reluctant to expose themselves as adult game developers, due to Asia's more conservative customs.
PinkNews took a liking to the upcoming Arcade Spirits: The New Challengers:
As a visual novel, it plays out on gorgeously detailed backdrops and your dialogue decisions help to shape your own character and the bonds they form. Will you be a gutsy leader? Or a kind and agreeable diplomat?
BlerdyOtome writes about five free indie otome games you should be playing:
I don't know about you dear readers, but hobbies can be pretty expensive! I can't even begin to tell you how much I spent on manga just last month alone, but even that pales in comparison to the amount of games I buy each month.
NicheGamer put Perfect Gold, a WLW visual novel, in their spotlight:
Set in the magical city of Castlecoast, Perfect Gold follows the story of Audrey Clary and Marion LaRue, two former friends that have ran into a rough patch in their relationship.
Love, Emma writes about why porn isn't meant to be educational:
It's arousing. It's escapist. It's pure fantasy. It's not meant to be anything else, but because it's sex and it's meant to encourage you to masturbate, a lot of people still treat porn like it's toxic.
Canadian MPs finally talked to sex worker advocates about PornHub:
OTTAWA, Canada — Late last Friday, the Standing Committee on Access to Information, Privacy and Ethics of Canada's House of Commons finally caved in to public concerns about bias and invited three representatives from sex worker advocacy groups to ongoing hearings today targeting MindGeek and Pornhub.
Every time there's new sex scene discourse, I find the only healthy response is to write a lesbian vampire three-way

It's difficult work, but it helps me cope with the bad tweets

— Magen Cubed, Witch King (@magencubed) April 19, 2021
Thanks for reading this far!
If you want to help me compile the newsletter, feel free to poke me on Twitter.
Until next time!
-Mr. Hands