Meet our first heroine – this is Clementinnn. Be supportive of her. After all, not everyone can easily tell the truth about themselves. And she has openly answered intimate questions about herself and her sex life. Could you do that?
– Hello! Tell me something about yourself. Where are you from? What do you do in real life, how old are you?
– My name is Clémentine, I am 43 years old. I am a restaurant owner (with my husband). I live in Nantes, France. I am married, quite sporty, and a musician in my spare time.
– Does the husband know that you are playing? How does he feel about this?
– My husband knows that I play in Yareel. He sometimes watches what I do. He has even participated in a few games. I tell him when I have fun experiences and it excites him. Anyway, being my submissive, he doesn't really have a choice. 🙂
– Is it easy for you to communicate with people in the real world?
– I am a very sociable person and I have many friends with whom I love to have huge parties.
– How long have you been with Yareel3D? How did you come here, how did you find this game?
– I've been playing Yareel for a long time, I don't really remember. Maybe 4 years.
I was looking for a game to spice up our sex life.
– How much time do you spend in the game? A day, a week? Do you come in several times a day or do you play for some periods?
– I play almost every day for an hour or two… Sometimes more when there is action.
Sometimes, I just don't play it as much as I used to… I can sometimes get bored.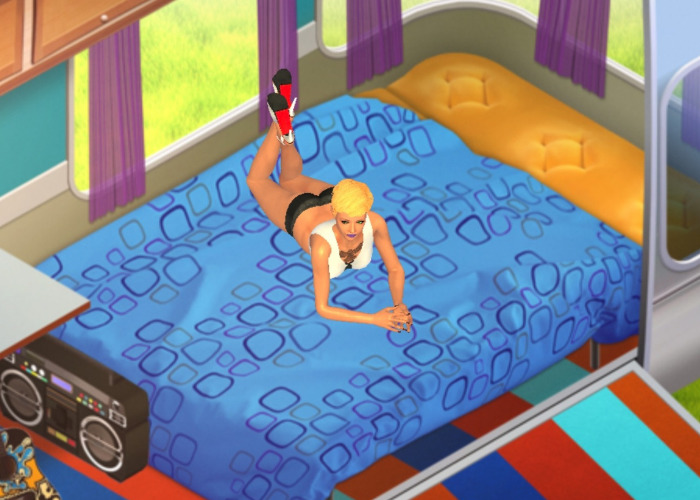 – Do you get tired of the constant attention of male players? Is it true that getting to know an interesting person here is easier than in real life?
– I don't mind the attention I get from the boys. On the contrary, I love it!
I don't think it's easier to meet interesting people in Yareel than in real life, but in Yareel they give free rein to their perversity and their fantasies, even the most shameful.
– How often do you receive gifts in the game? What do gifts mean to you?
– I rarely get gifts, but I don't ask for any either. Gifts should be given with pleasure. I must have been a VIP twice, I think, a few flowers and two or three outfits.
– Is it important for you how your character, clothes, hairstyle looks? Are you missing something in the character customization section?
– I quite enjoy customizing my character. I regret not being able to modify the morphology (like a rounder or slimmer woman, to have a bigger butt or bigger breasts). I also think that there is a lack of hot outfits: thongs, boots, stockings, dominatrix outfits, submissive outfits, dog collars, wolves, hats, piercings.
– How do you use Yareel? Is it just casual dating, or is there something more, like a long-term relationship within the game?
– I very rarely play with someone in the game. I mainly use the game to share my fantasies, to masturbate or to obey some partners who turn me on more than average.
"MY HUSBAND KNOWS THAT I PLAY. I TELL HIM WHEN I HAVE FUN EXPERIENCES AND IT EXCITES HIM."
– What attracts you to people? What qualities? How do you recognize that a person in a game is interesting to you?
– I like players with some sexual experience who are confident in themselves. Enough to dominate me and preferably very kinky. I must admit that a partner who takes an ascendancy over me from the very first exchange is more likely to have fun with me.
– Do you first communicate for a long time, before moving to a higher level, or do you immediately ready to play (have sex)?
– I rarely play in a room. The partner has to be patient to get there. At first I used to go more often, but I got tired of it. Now I need the partner to stand out from the crowd to get me there.
– Do you have any particular fetishes in sex or fantasies?
– I love to be submissive, humiliated, exhibited … if possible by several people. I also appreciate seeing my husband in the same kind of situation.
– What level of arousal do you feel having sex in the game? Is it like watching porn or is it something else?
– My level of excitement when I'm in Yareel depends a lot on my partner. It's not uncommon for it to go way beyond watching porn.

– Have you tried group sex in a game?
– I like to fuck with more than one person in Yareel… just like in life.
– Tell me about your best sexual experience at Yareel?
– Once in Yareel, a dominant who really had a hold on me made me lose control completely. We had agreed that I would obey him in every way. I was watching a bunch of guys hanging out at the foot of my building. (I am on the first floor with a large bay window). I told him that I dare not caress me because they could see me. He orders me to do it. I obey. They see me. He then orders me to undress. I obey. He orders me to dildo myself in front of them. I always obey. The guys downstairs were hissing at me and insulting me …. He ordered me to bring them up. They are going up. I had to wake my husband up to pick up the phone and give the instructions … That cuck !! Himself had to suck cock. An evening of madness.
– Does playing a sex game mean that you have a little sex in the real world?
– I have a very good sex life. My husband fucks me good. I regularly have adventures and we have lots of games with my husband. I don't think I can be pitied.
– Do you have a lot of friends in the game? Do you tell them about yourself in real life, outside of the game?
– I have a few friends in Yareel and I easily talk to them about my personal life, but I still avoid saying too much. Like the name of my restaurant or where I live exactly.
"A DOMINANT WHO REALLY HAD A HOLD ON ME MADE ME LOSE CONTROL COMPLETELY."
– Is your personality in the game the same as in life or have you invented a new "I" for yourself?
– I stay in Yareel myself. I believe this is the best way to take full advantage of it.
– Have you met people from the game in the real world?
– So I made 2 IRL meetings following contacts in Yareel. But really selected with great care. A woman and a man. Very satisfactory both times. A little stressful meeting people this way but it was worth it.
– If you could change something in the game, what would it be?
– I find that in rooms there should be some "extra" actions without the consent of the other partner. It would be fun !! Gender: slaps, slaps on the buttocks, fingers in the ass …
It also lacks a gangbang mode where each male would have the choice of his own actions. The double anal is missing. There is something missing between three women. And we should be able to insert reactions like different screams. Or squirting.
– What do adult games mean to you? What are they give you? Why are you playing them?
– Yareel allows me to find a partner to fantasize about at any time and blindly obeying someone I haven't seen turns me on tremendously.
– What advice would you give our readers if they haven't played Yareel yet and decide to give it a try?
– My advice: try! Be yourself! Let go! Have no shame and no limits!!!