We are completing the cycle of interviews with our players. Final interview with a redhead beauty GiggityGirl996. If you are interested in this publication format and want us to continue to conduct interviews with players, write about it in the comments.
– Hello! Tell me something about yourself. Where are you from? What do you do in real life, how old are you?
– Hello, I'm 23 years old and I live in Bosnia. I work in a betshop and my hobbies are volleyball, travelling and partying.
– Is it easy for you to communicate with people in the real world? Do you have many friends and acquaintances? Do you consider yourself open or, on the contrary, a shy person?
– Usually I'm shy at first, but it doesn't take long until you meet my hidden darker side 😀
– Do you have a permanent offline partner?
– Yes, I am engaged.
– How long have you been with Yareel3D?
– Not sure, but over 5 years.
– How did you come here, how did you find this game?
– I was playing a different game which was about to shut down and this was recommended as a good alternative. And it was.. I liked it and here I am.
– How much time do you spend in the game? A day, a week? Do you come in several times a day or do you play for some periods?
– Its really random. Sometimes I log in every day for 7 days straight, and sometimes I don't login for a week at all.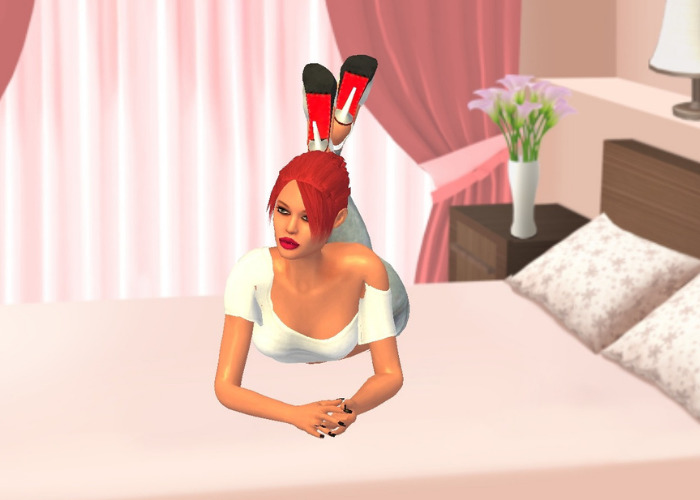 – Do you get tired of the constant attention of male players? Is it true that getting to know an interesting person here is easier than in real life?
– Yeah, I've meet quite a few interesting guys who I contact regularly. On the other hand, my block list is also pretty full. 😛
– How often do you receive gifts in the game? What do gifts mean to you? If a man refuses to give a gift, how do you assess it? Will you continue to communicate with him?
– Gifts are always nice, especially VIP and I do appreciate them, but I never ask for it or mention it. If somebody decides to gift me, its his own choice. But I will not reject someone because he didn't send me a gift, and on the other hand I also can't be bought by a gift.
– Is it important for you how your character, clothes, hairstyle looks? What about the characters of other players? Are you missing something in the character customization section?
– Yes, I'm constantly working on my looks and changing it. I cant think of anything specific, but extra clothes and clothing styles is always welcome.
– How do you use Yareel? Is it just casual dating, or is there something more, like a long-term relationship within the game?
– Its casual. I have a few 'regulars', but I mostly like meeting new players and getting to know their fantasies, seeing how they react to mine etc.
– What attracts you to people? What qualities?
– Confidence and humor to 99%.
"GIFTS ARE ALWAYS NICE, ESPECIALLY VIP AND I DO APPRECIATE THEM, BUT I NEVER ASK FOR IT OR MENTION IT"
– Do you first communicate for a long time, before moving to a higher level, or do you immediately ask to play with you (have sex)?
– Depends on my mood and the personality of the guy im talking to. With confident and strong men, I prefer to jump into action straight away.
– Do you have any particular fetishes in sex or fantasies? Have you tried to implement them in the game? If yes, please tell us more. Is it easy to find someone in the game who shares your fetish?
– Yes, I have many and its easy to find guys who will play along with everything, but as a girl its important to fulfill their fantasies too.
– What level of arousal do you feel having sex in the game? Is it like watching porn or is it something else?
– More than porn, as it is interactive and my fantasy can create better scenarios than any porn movie.
– Have you tried group sex in a game or same sex? If so, do you have the same experience in real life? Or is it just experiments that you can only afford in the virtual world?
– I tried group sex, but not same sex. But with the right person, I'm open for all experiments  Both are things that I only do in the game.
– Tell me about your best sexual experience at Yareel?
– It was a long term connection with an older man from the USA. A deep personal connection which led to countless orgasms. 
– And in real life? 🙂
– With my ex on vacation, 2 years after our break up. Nothing planned, completely accidental and the night was sensational.

– Does playing a sex game mean that you have a little sex in the real world?
– No.
– Do you have a lot of friends in the game? Do you tell them about yourself in real life, outside of the game?
– In most cases I keep my real life and Yareel life separated.
– Is your personality in the game the same as in life or have you invented a new "I" for yourself?
– Its much more darker in terms of sexual desires. But other than that I'm mostly the same.
– Do you transfer acquaintances here to the real world or messengers? Maybe even meeting people from the game in real life?
– As I said before, I keep those two lives separated.
– What is your favorite thing about Yareel3D?
– The bar
– What you don't like?
– Everything is great. Maybe it just needs more poses and clothing styles.
"WITH THE RIGHT PERSON, I'M OPEN FOR ALL EXPERIMENTS"
– If you could change something in the game, what would it be?
– Cant really think of anything.
– Have you played other multiplayer sex games and how does Yareel compare to them?
– I'd say its in the golden middle. There are some games with better graphics and more options, but are also expensive to use. So I'd say Yareel is the most balanced.
– What do adult games mean to you? What are they give you?
– It's a huge pleasure. In real I am committed to my boyfriend, but here I have lots of strangers and we please each other.. Its hot 🙂
– You have been in the game for a very long time. What keeps you here?
– Interesting and funny guys. There is lots of them 🙂
– And the last question – What advice would you give our readers if they haven't played Yareel yet and decide to give it a try?
– Put some effort in your profiles, it really makes a difference. And don't forget to use protection 😛 :-*