Today our guest is the guy who sent us the biggest message in his application for an interview. He probably told everything about himself in it. It was written with self-irony, humor, and openness that we knew immediately that he would be our hero of the interview. Meet Eros_.
– Hello! Tell me something about yourself.
– Hey Yareelians!😉, I am a 21 yrs old ecstaticguy from the mystic subcontinent of India,(yes it's from Big Bang Theory).
I am a Law student.
– Is it easy for you to communicate with people in the real world? Do you have many friends and acquaintances? Do you consider yourself open or, on the contrary, a shy person?
– Well i never felt any difficulty in communicating with poeple in the ' real world' however it's apparently easier in the virtual world as there's no one to judge you, you don't have to be socially and politically right and it's easier to cut loose of they're annoying.
Well i never set norms to myself being an open or a shy person, it generally depends on the situation whether i should be involved or not 🙂.
– Do you have a permanent offline partner? If not, how often do you date in real life?
– In the present time i don't have a girlfriend, and i have recently joined a college, but damn this COVID-19 has shut down all the colleges here.Being honest i date a couple of times in a monthbefore pandemic.
– How long have you been with Yareel3D?
– It's been a a year and a half since I discovered Yareel3D.
– How did you come here, how did you find this game?
– I found this game on YouTube, maybe i was horny at the time and searched for' best online sex games' Lol😂😂 and downloaded it on my phone. And My Fucking God i found a pool of similar interested horny naughty persons.
– How much time do you spend in the game? A day, a week?
– I spend a lot of time in the game Tbh about 2 – 4 hours daily. I think its even more addictive than cocaine (not have i done it 😂) have to play everyday. I login daily and several times in a day. Finding pretty girls and conversing in bar doesn't feel exhausting and time flies).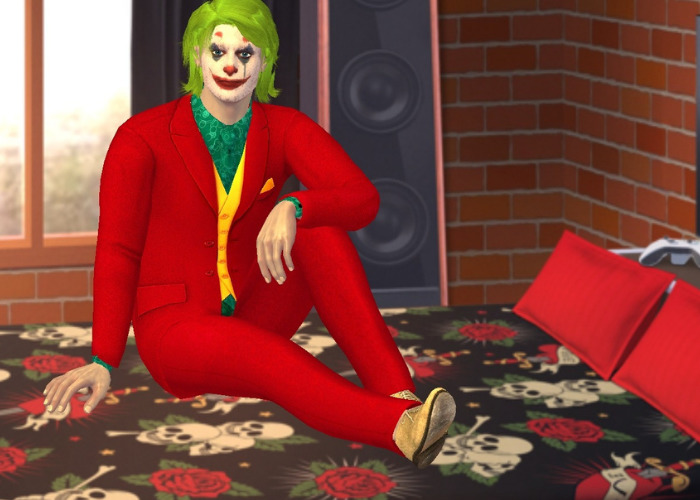 – Is it important for you how your character, clothes, hairstyle looks? What about the characters of other players?
– Yes, I like to try different clothes which look good on my Avatar and often ask my friends to rate the look. I buy as soon as any new clothing is available for my Avatar and thanks for the new tattoos. I appreciate other players if they have a nice look, but i don't really judge them for their avatar look, it's completely their choice.
– How do you use Yareel? Is it just casual dating, or is there something more, like a long-term relationship within the game?
– I use Yareel to have a good time finding different people around the globe and knowing bout their likes and dislikes, I use this app to improve my communicating, roleplaying, flirting skills. I do love having long term relationships in the game and be friends otherwise there won't be any fun element in the game, having someone with the same mindset is always engaging 😊
– What attracts you to people? What qualities? How do you recognize that a person in a game is interesting to you?
– I am attracted to people who are affable in nature, confident, humorous and their way of conversing and obviously a pretty face is attractive too. Lol. Reading their profile helps me to know about their likes /dislike before conversing but i don't prejudice before having a chat.
– Do you first communicate for a long time, before moving to a higher level, or do you immediately ask to play with you (have sex)? Is it difficult for you to find a sex partner in the game?
– When I just joined i was just horny guy who want to play in room and just SEX SEX SEX💦💦💦 but here a Mountain⛰️ of truth🤔 was bestowed on me when i found out that girls dont just like playing in room because they're not just pornissuires. (thats a word i invented). in order to attract girls I have to be Smooooooth, oh yeah.
Now i try to make a friendly bond first making her comfortable and then ask her if she's interested in any sexual roleplay or doing room. But ihabe also found interesting and sexy girls via Quick play, but i don't ever send cold friend request / invites. Finding a sex partner is not difficult, but finding a good sex partner with same wavelength of understanding is. Lol
"I WOULDN'T RECOMMENDING GUYS TO SEND COLD INVITES UNLESS U WANNA STAY IN HER IGNORE BOX."
– Now with your experience and knowledge that girls are not "pornissuires", what can you recommend to guys? How to catch the girl's attention in the game and establish contact with her?
– I recommend my fellow horny bros to first have a nice profile write something funny in ur profile which can help you to get girl's attention, and pal don't have a dick pic in ur profile it can get ur profile blocked and to all the girls i know don't like them. Being Funny and nice will surely make her like you establish trust and make her addicted to you, and also I wouldn't recommending guys to send cold invites unless u wanna stay in her ignore box try to read her profile firsy. And if she's not interested move on and have some pride.
– Do you have any particular fetishes in sex or fantasies? Have you tried to implement them in the game? If yes, please tell us more. Is it easy to find someone in the game who shares your fetish?
– I like thick ladies, i have a pretty common fetish of neck biting and licking fetish and teasing with soft hands form thighs to fluffy butt and yes I have done that several times in the game while roleplaying and in room. I like to be sensual with my girl and give her love bites. Lol. Well I say yes, it's easier to find a girl with the same fetish.
– In what role-playing games did you participate?
– I have tried many roleplays with my partners of which the most arousing to me are public agent, nurse and patient, Harem roleplay, also ASMR roleplay.
– What level of arousal do you feel having sex in the game? Is it like watching porn or is it something else?
– I do get really aroused while playing the game with the right partner and it is way better than watching porn because there is a two way communicatio an Steam. Lol.

– Have you tried group sex in a game or same sex? If so, do you have the same experience in real life? Or is it just experiments that you can only afford in the virtual world?
– Yes, I do group sex in the game whether it be a swinger sex party or a Hot MFF. It feels much more happening and exciting. But unfortunately haven't had any chance of groupsex irl, and maybe its just a pleasure of the virtual world. lol
– Tell me about your best sexual experience at Yareel?
– My best sexual experience at Yareel was a good master slave roleplay with my bitch we roleplayed for an hour and then we mixed it with some roomplay, and i jerked off gooood. Lol She is still my best sex partner in the game.
– And in real life? 🙂
– With my first girlfriend when we were in 9th standard We bunked our school on 14th Feb and has gone to an abounded area had amazing sensual fuck, it was very risky but was worth it 😋
– Does playing a sex game mean that you have a little sex in the real world?
-Well i don't think so, i know many couples and girls who play the game and have sex in real life, also there is no denying the fact that many single guys are playing it for pleasure, take me for example Lol.
– Do you have a lot of friends in the game?
– Yes i do have lots of friends in the game which helps to prevent boredom and i try making new and unique friends. I don't think i would still be playing if i didn't had those friends who were funny hilarious and awesome. Thannks to U 🤣
– Is your personality in the game the same as in life or have you invented a new "I" for yourself?
– Yes i am more or less the same perso in the game and in real, well u can say a lot more nicer in real life. Lol. I haven't created a new personality coz i don't think i can be persistent to what i am not.. and having the same personality helps in improving myself.
"IN ORDER TO ATTRACT GIRLS I HAVE TO BE SMOOOOOOTH"
– Do you transfer acquaintances here to the real world or messengers? Maybe even meeting people from the game in real life? If so, what was the experience like?
– Well I generally like to stick to the game but have met many girls on kik and insta, but never had the chance to meet someone in real, some experiences was good and most of them were bad so that is why i like to stick to game only. Lol
– What is your favorite thing about Yareel3D?
– My favourite thing's' about yareel is the concept of a Bar its much more simple to have a conversation there rather than sliding in DMs, meeting new people and having a great time, also i like the wide variety of customization to ur Avatar, at last i like the concept of a leader window which makes the overall feel of a social app.
– What you don't like?
– I dont like that it is so easy to make fake profiles in the game and spread hatred and disgust towards one another.
– If you could change something in the game, what would it be?
– If i could change one thing, then it would be to add emojis in the chat.
– Have you played other multiplayer sex games and how does Yareel compare to them?
– Yes i have played other multiplayer sex games but they were not so addictive. It is available on all platforms and is easy and simple to use. It is more appealing as it is made much more on the concept of social media apps rather than particularly focused on one aspect.
– What do adult games mean to you? What are they give you? Why are you playing them?
– Adult games are a mean of sexual two way interaction for me and to learn more about variety of sexual desires, i get pleasure from giving pleasure to other ladies and i play to stay connected with horny and funny people around the globe lol.
– Did you have any funny moments in the game? Can you tell?
– Most of the funny moments are related to the bug or error in my avatar, i keep those as screenshots and almost many funny moments happen in the bar daily, trying sex jokes in the bar and having a good response.
– And the last question – What advice would you give our readers if they haven't played Yareel yet and decide to give it a try?
– Give it a try and you're here forever, that's how addictive it is. Lol. Play the game and ejoy it is more than just a sex game, it is a nice way for you to know and learn new things and to have unforgettable memories. Just dont be a dick. Lol