New interview, new hero, new girl. Meet NastenaKos. A player from distant snow-covered Russia (is there snow in Russia now? 🙂 ). She calls herself a princess from Taiga. Let's welcome Nastya.
– Hello! Tell me something about yourself. Where are you from? What do you do in real life, how old are you?
– Hi I'm Anastasia, I'm 21 years old. I live in Yekaterinburg. I study at the university, in the future I will be a specialist in architecture.
– Is it easy for you to communicate with people in the real world? Do you have many friends and acquaintances? Do you consider yourself open or, on the contrary, a shy person?
– Yes, I easily communicate with people, but at the same time, I am too straightforward. Not everybody likes that). I don't have many real friends, but I am very friendly with many people. I put a very deep meaning in the word friend. For me, it is someone who, despite everything, will always come to my aid. I am an open person and always try to understand other people.
– Do you have a permanent offline partner? If not, how often do you date in real life?
– At the moment I am free. My heart is not occupied by someone I would love. I believe in true love. Now my life is more about studying. I dated guys and a girl, but it was also moments of joy and bitterness.
– How long have you been with Yareel3D?
– I've been with Yareel 3D for about a year, I don't remember exactly, but I fell in love with the game right away. I immediately fell in love with amazing people in the game that I love and love interacting with.
– How did you come here, how did you find this game?
– I got into this game by chance. I was bored with my girlfriend in a cafe, and I saw that she was chatting with someone. I asked her who she was messaging with, and she showed me and told me about the game. So here I am.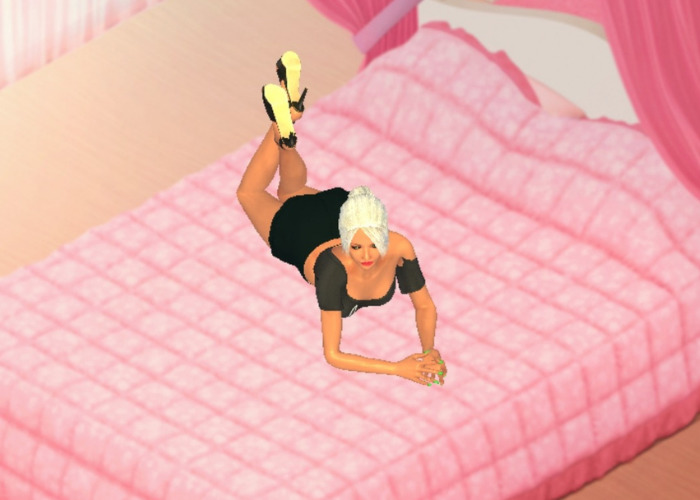 – How much time do you spend in the game?
– I try to spend time in the game all the time, at every opportunity, I come in to chat with my girlfriends with joy.
– Is it important for you how your character, clothes, hairstyle looks?
– Oh, of course, yes, this is important to me because I'm a girl. It plays a big part in my life. I've been conditioned since childhood to look like a Million in everything.
– How do you use Yareel? Is it just casual dating, or is there something more, like a long-term relationship within the game?
– I'm very interested in long-term relationships. And I think that's going to happen soon.
– What attracts you to people? What qualities? How do you recognize that a person in a game is interesting to you?
– I am attracted to honesty and courage in actions and, of course, humor. I am a very cheerful person. Whether a person is interesting to me or not, I will understand it by his communication with me and other players.
"I'M NOT ASHAMED TO ADMIT THAT I CAN LOVE A GIRL IN THE REAL WORLD."
– Do you first communicate for a long time, before moving to a higher level, or do you immediately ask to play with you (have sex)?
– Of course, I communicate to get to know each other better first. I never ask for a partner, because I'm a girl. He has to make me feel comfortable for our relationship to move to a higher level.
– Do you have any particular fetishes in sex or fantasies? Have you tried to implement them in the game? If yes, please tell us more. Is it easy to find someone in the game who shares your fetish?
– To be honest, I'm attracted to girls. Yes, I realized my fantasies in the game. I'm a little shy about it, but I've tried threesomes.
Yes, it's easy to find a partner who shares your preferences in sex in the game. I love affection and tenderness. To give and receive in return.
– What level of arousal do you feel having sex in the game? Is it like watching porn or is it something else?
– When I make love in the game, I experience arousal just like in real life, sometimes even more powerful. I play as I live in real life, and I let all the feelings pass through me.
– Have you tried group sex in a game or same sex? If so, do you have the same experience in real life?
– Yes, I tried threesomes and gay sex in the game. In real life I had gay sex too.

– Tell me about your best sexual experience at Yareel?
– The best sex I had was with my girlfriend from Belarus. She is a lesbian. To be honest, I miss her, we haven't seen each other for a long time. Her nickname is Alenushka.
– And in real life? 🙂
– In real life?) mm it was also sex with a girl hee-hee
– Does playing a sex game mean that you have a little sex in the real world?
– I wouldn't judge it that way. At the moment I'm free. A game is a great time spending time and socializing with good people and even families.
– Do you have a lot of friends in the game? How trusting are you with them? Do you tell them about yourself in real life, outside of the game?
– I don't have many friends from real life in the game. There are a couple of friends and I trust them completely.
– Is your personality in the game the same as in life or have you invented a new "I" for yourself?
– My personality in the game fully reflects me as I am in real life).
– Do you transfer acquaintances here to the real world or messengers? Maybe even meeting people from the game in real life?
– Yes, I don't hide my interest in meeting my friends from the game in real life. I chat with some of them in messengers.
"I PLAY AS I LIVE IN REAL LIFE, AND I LET ALL THE FEELINGS PASS THROUGH ME."
– What is your favorite thing about Yareel3D?
– In the game I like to communicate and meet interesting people from around the world. In my opinion it's great.
– What you don't like?
– I do not like only the rude), but they can always be sent to ignore.
– If you could change something in the game, what would it be?
– The only thing I would like to add to the game is more locations, not just the bar. But I understand that it's painstaking work and you're trying to make a good game for us. Thank you very much for that.
– Have you played other multiplayer sex games and how does Yareel compare to them?
– In my opinion Yareel is the best game because I am a mobile girl and it is convenient for me to be in the game from my phone.
– What do adult games mean to you? What are they give you? Why are you playing them?
– Well sex games give me to know my desires, to loosen up, to be more sexy and attractive.
– In your application for an interview, you said that in the game you got to know yourself, allowing what you could not afford in real life. Please tell us in more detail.
– I realized that I really like girls. I became more courageous in my actions in real life. I'm not ashamed to admit that I can love a girl in the real world.
– And the last question – What advice would you give our readers if they haven't played Yareel yet and decide to give it a try?
– My advice is very simple – be yourself, try things you were afraid of in real life, experiment. Listen to your heart, what you like and what you don't like. Be happy and love each other).