Browser game Cunt Empire is an excellent simulator of XXX business management.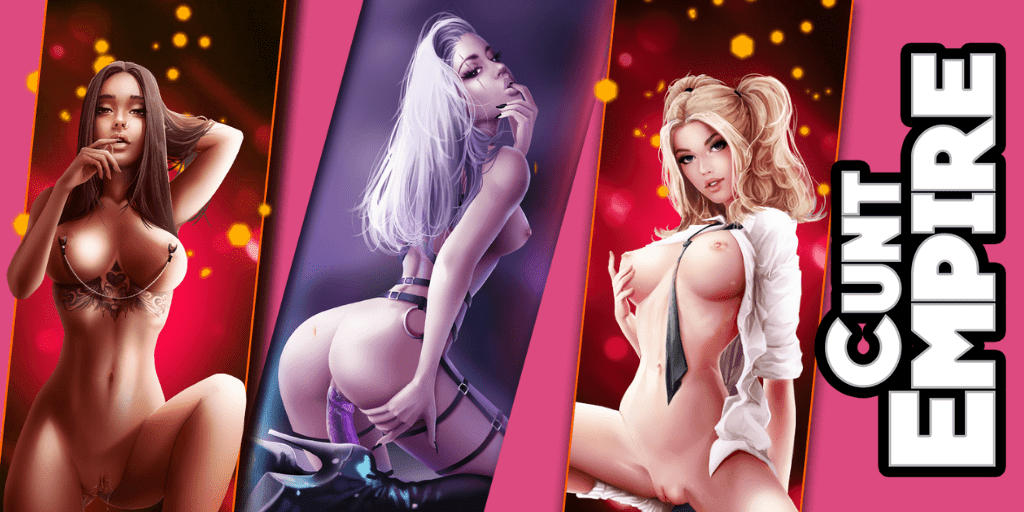 What is Cunt Empire About?
Cunt Empire is not a regular XXX game. It is a unique porn business management simulator! Do you want to create a huge and successful porn empire? This game gives you such possibilities. Stacks of cash and hot bitches are provided.
This game helps you feel like the owner of a porn company. A lot of details and options make this game not boring at all. You will have interactive dialogues with such triple-A pornstar as Little Caprice. You can hire a lot of webcam girls and BDSM models to make great shows and money. Step by step, you will build the company of your dreams. Also, this game gives you wonderful chances of jerking off while watching bonus video clips with the hottest bitches. This fact gives you a lot of motivation while playing. If you want more teasing content, do your best while managing the company.
There is nothing difficult in the gameplay of Cunt Empire. You enter the website in your browser, wait for loading, and press start. The well-known pornstar Little Caprice is happy to say hello to you. This is one of the coolest advantages of this game. You interact with the representation of real porn divas. You have a dialogue, and you should choose the right answers. This is how the Cunt Empire begins.
After the quick dialogue, you can start building your empire. What you have at the beginning? A few webcam models and BDSM shows are available. These are the resources of cash for you at this moment. Hire a webcam whore and start gaining money. There are a lot of details in the game: awards, sex toys, income messages, customers, money, kinky things, and more. The most XXX part of the game is the videos. You can watch real sex clips with popular pornstars inside of the game as the reward. This is pretty cool for a browser game.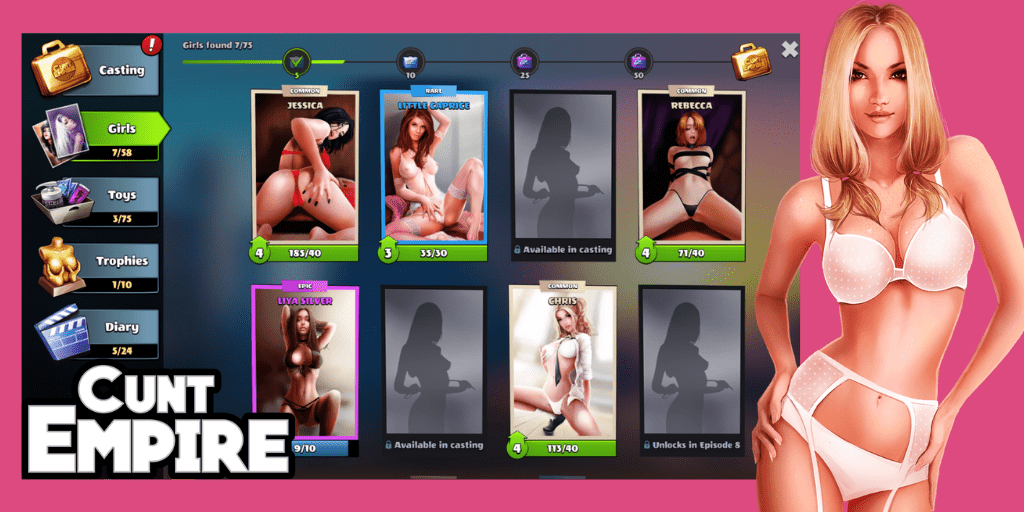 The Cunt Empire Won't Leave You Bored
Become reach, buy more cool stuff, and hire the most popular and talented models. After that, you have a chance of getting AVN Awards, Golden condoms, and Cash Canons. Unlock more hot content for your pleasure and explore the next levels. Recently you will have more dialogues with Little Caprice (and not only dialogues).
Interactive sex scenes look pretty nice in this game but are simple. You just see the characters having sex in one position. You should click as fast as you can to make them fuck faster and reach the orgasms. It's pretty exciting. Of course, you get rewarded for a hot sex scene! Enjoy more coins, increase your Fuckpower, get more slut parts, and a piece of a sex clip. Nice bonuses for just one coitus 😉
I am really happy to see the uncut porn clip with real porn diva inside of the game. This is a very pleasurable bonus. You have enough time to enjoy the scene and get satisfied. After that, it's a good idea to continue managing your virtual porn business.
There are many other things in this game. You better explore them by yourself. This game is awesome and unrepeatable. The gameplay will not leave you bored or unsatisfied.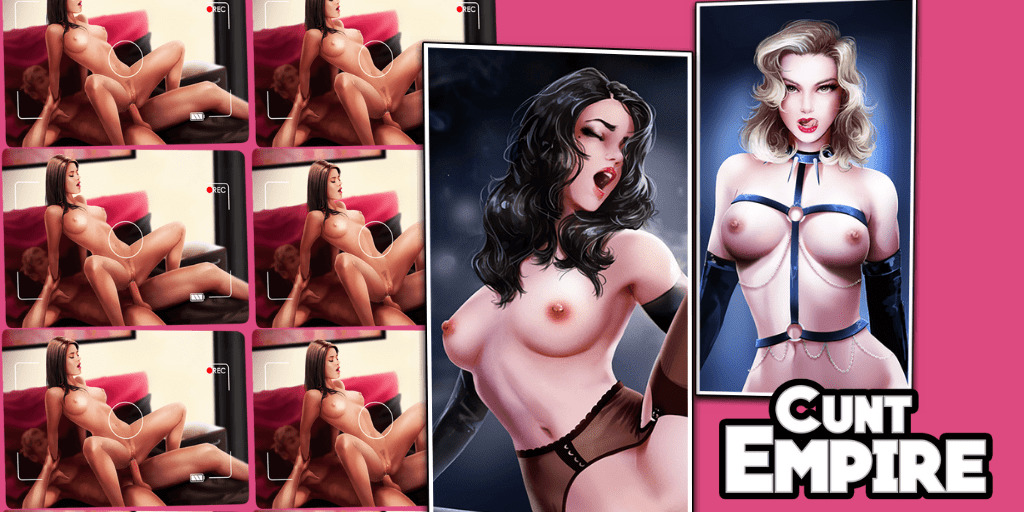 You can open and play the Cunt Empire in any browser. You just need a good Internet connection, and that's all. Use your laptop, PC, or smartphone to play this game for free.
Unique porn business management simulator
Many real pornstars
Exciting pussy clicker
Amazing graphics
Free to play
Some small problems with the design
Too much effort to watch a sex clip
You can play this exciting browser game for adults on the official website https://www.cuntempire.com/
Cunt Empire has in-app purchases, but they are optional. You can enjoy the game to the full and have a great experience without paying a penny.